Regular price
Sale price
$22.75 USD
Unit price
per
Sale
Sold out
Azomite is a natural, mineral product that serves as an anti-caking agent and a unique re-mineralizer for soils.  Our Azomite is available ultra-fine (-200 mesh) powder or granulated, 
Azomite's complex mix of naturally occurring minerals maximize germination and help plants grow to their full potential by aiding photosynthesis. Azomite also improves the Brix content.
Azomite is 100% natural and OMRI listed organic and contains no additives, no synthetics, and no fillers.
Azomite Can Be Used For
Agricultural fertilizer.

Landscape or turf top dressing.
Soil amendment for potting soil.
Green and aged compost.
What is Azomite?

Azomite is a powdered form of rhyolitic tuff breccia, a volcanic rock mined from a deposit in Utah.  Powered Azomite contains important minerals for depleted soil. 


Azomite General Application Instructions
Agriculture & Regenerative Agriculture:

 

Add 200 lb. per acre (approximately 5 lb. per 1,000 square feet) the first season, then 100 lb. per acre

 

(a

pproximately

 2.5 

lb. per 1,000 square feet) 

every year thereafter.  
Vegetable & Flower Gardens: Apply 1/2 lb. per 100 square feet or 1/2 lb. per 200 ft. of linear row in a 6″ wide band.
Trees, Fruit trees, Grape Vines, Ornamentals and Shrubs, etc.: Add 1/2 lb. to 1 lb. to the soil around each plant and lightly till or water/irrigate into the soil.
Lawns: Apply 2-3 lb. per 1,000 square feet once a year in the Spring, Fall or Winter. This equals 20-30 lb. per 10,000 square feet.
House Plants and Flowers: Mix 1/2 teaspoon per inch of pot diameter with potting soil before planting. Apply ½ to 1 teaspoon every three months to the soil surface of the soil and water in.
Greenhouse and Potting Soil: Add 7 -10 lb. per cubic yard of potting soil, and add to the irrigation water when possible, on a weekly basis, at a low rate.
Compost: Add 5-10 lb. per 200 lb. of compost added at the beginning of the compost cycle.
Hydroponics: Add AZOMITE to the irrigation water assuring there is adequate agitation, screen and nozzle sizes, and foliar sprays, and potting soil, as per above rates.
Note: This product is not water soluble and requires agitation when used in irrigation, spray applications, etc.
Azomite Ingredients
Natural Mined Azomite.
Extracted Soluble humate SP-85 ............. 4.5%.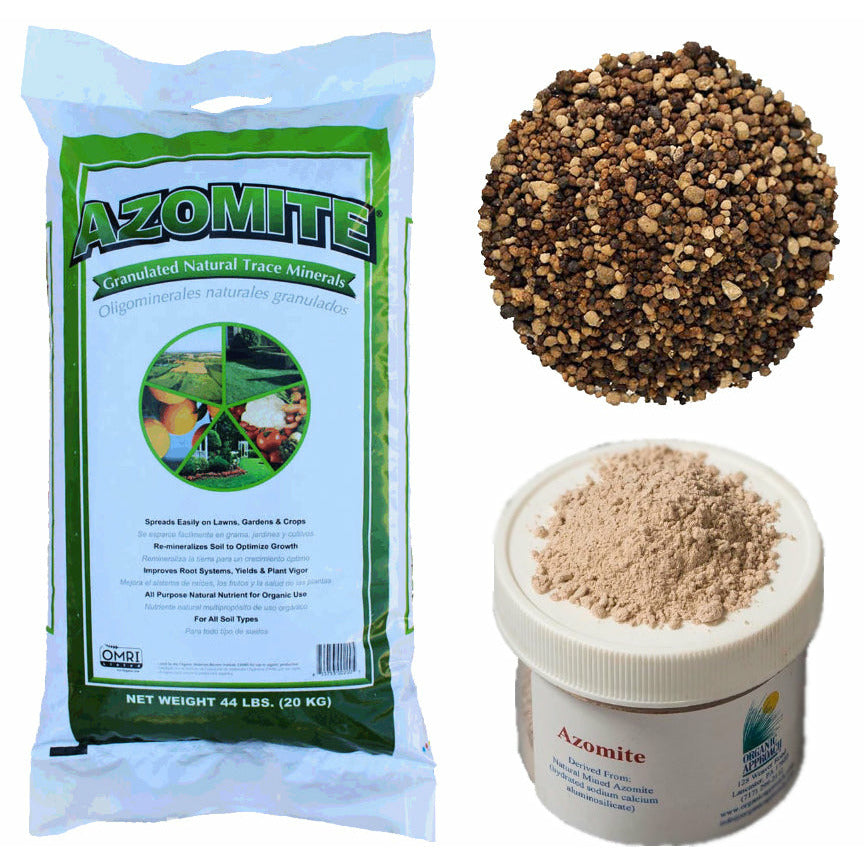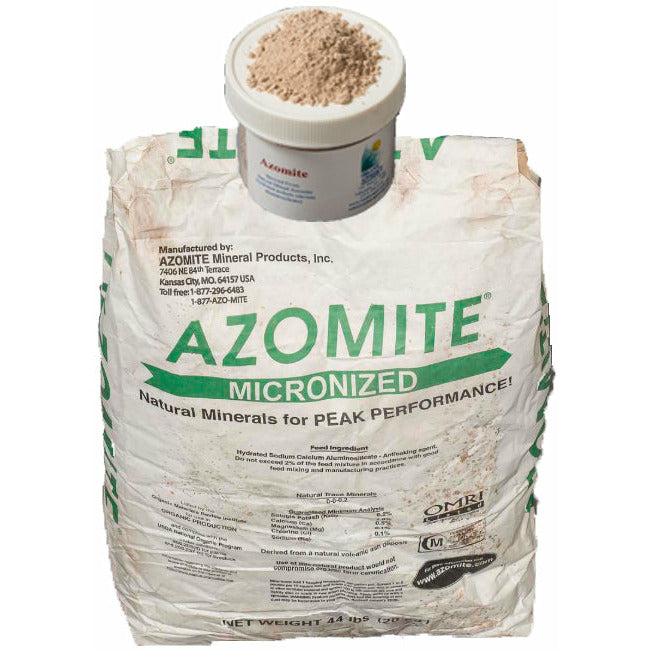 Choosing a selection results in a full page refresh.
Opens in a new window.